Locating the Borderlands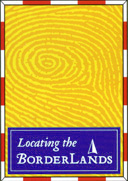 Locating the Borderlands is an episodic site-specific performance event in which twelve participants will become the protagonists on a heroic journey into the Borderlands of their own psyche. These episodes will occur in public and private spaces throughout the Mission, SOMA and Potrero districts of San Francisco on Sunday May 22nd. Individual episodes will take the form of participatory performances, interactive installations, social interactions and improvisatory happenings. Participants will be issued passports to gain access to each episode. Their movements through physical locations will correspond to different psychological realms. Each realm has it's own rules of operation and the participants must try to navigate their way through the shifting terrain. Each participant's journey will last approximately eight hours. A larger audience will be invited to witness and occasionally participate in their efforts. Spontaneous interaction from local residents in public arenas will be invited and incorporated into the public episodes.
For more information, download our press release.
To become a participant, please print and mail this form to us.
Locating the Borderlands Creative Team
Mary Anderson, Deborah Burkman, Kim Criswell, Todd "Spark" Donahue, Natalia Foster, Fred Grasset, Shoshana Green, John Guzzardo, Frieda Kipar, Phil Kohlmetz, Ryan Lucas, John Maris, Yuki Maruyama, Dan McDowell, Tomoko Murakami, Amy Petrolati, Henry Rosenthal, Liz Sklar, Paul Spitz, Bill Streett, Vivian Triantafillou, Nell Waters, Fay Wyles
Additional Help From
Lori Gordon, Jason Linetsky

Biographies
Todd Jones Donahue (a.k.a. Spark*!) is a transformative artist and performer. His artwork has been exhibited
throughout the Bay Area. He also regularly does live performance illustration, painting, and sculpture in
nightclub settings, to the music of dj's and live musicians. He's also a graduate student in Transformative Arts at JFK University in Berkeley.
K. Natalia Foster is a mixed media installation artist with a BFA in photography. She worked in film and commercial production in Los Angeles in the 90's, then traveled and studied Chinese Medicine and other forms of alternative healing. She is currently pursuing her MA in Transformative Art at JFK University in Berkeley, CA. Her artwork is informed by her background in the healing arts.
Kim Criswell is a performance artist with a background in dance, theater, and visual arts. She also works in mixed media, creating works on paper and sculptures using found objects and words. She's in the Masters of Transformative Arts program at JKF.
Yuki Maruyama is visual and conceptual artist who has grown up in constant transition between languages (English, Japanese, French) and countries (Japan, US, France, Singapore, Sweden, Canada). Her work uses desire as a means to connect disparate places and moments in time. She graduated from CCA with an MFA in Drawing and Painting.
Faye Wyles is a painter, commerical artist and silversmith. In addition to exhibiting her fine art paintings, her hand can also be seen throughout the Bay Area on commerical signs and faux finishes. She also performs with the Senagalese Drum troupe "Teugoum Djiegume" or "Drum of Women". She has a BFA in painting from the University of New Mexico.